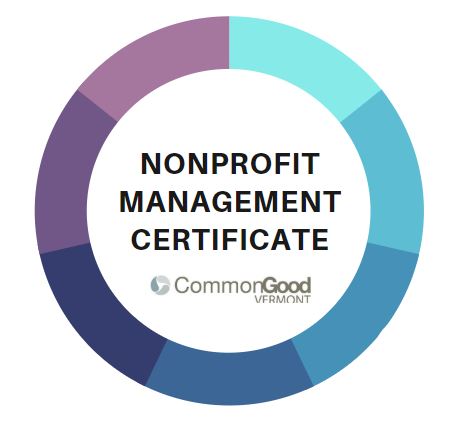 2020 registration opens late September and classes begin the week of October 19th. Reserve your seat below.
The Nonprofit Management Certificate (NPM) is Vermont's longest-standing training program for nonprofit leaders. For over 10 years, this renowned program has instructed executive directors, policymakers, and emerging leaders from Vermont and northern new england. For the first time, this renowned program will be available online!
Participants: Whether you are currently in a leadership position or are new to the sector, this program is for you. The Certificate Program is designed for active practitioners and leaders in Northern New England's vibrant nonprofit community. Professionals transitioning to the nonprofit sector or who are starting their own nonprofit are also welcome.
Workshops: The 2020 Program will begin the week of October 19th and include a mix of self-guided learning, live webinars, and cohort learning. Topics include:
Introduction to Nonprofit Organizations
VT's Nonprofit Sector
Fundraising & Development
Governance & Board Leadership
Strategic Planning & Planning for Change
Nonprofit Financial Management
Communications & Marketing
Outcomes & Evaluation
Operations & Human Resources
and more!
Trainers: Our list of trainers include some of Vermont's leading Nonprofit consultants and instructors like Jenn Hayslett and Claire Wheeler. Additional speakers include nonprofit leaders, funders, and policymakers who support Vermont's nonprofit sector.
Meet Some of Our Trainers
Registration opens late September, 2020! Complete the form below to save your seat...