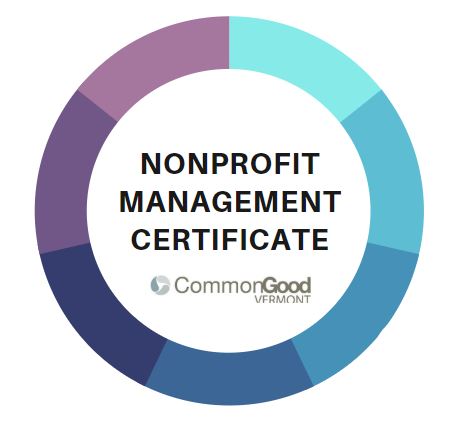 The Nonprofit Management Certificate (NPM) is Vermont's longest-standing training program for nonprofit leaders. For over 10 years, this renowned program has instructed executive directors, policymakers, and emerging leaders from Vermont and northern new england. For the first time, this renowned program will be available online!
Participants: Whether you are currently in a leadership position or are new to the sector, this program is for you. The Certificate Program is designed for active practitioners and leaders in Northern New England's vibrant nonprofit community. Professionals transitioning to the nonprofit sector or who are starting their own nonprofit are also welcome.
Workshops: The 2020 Program will begin the week of October 19th with a mix of self-guided learning, virtual classes, and cohort learning. Virtual classes are hosted on Fridays from 12:00 to 4:00 PM from October 23rd to December 18th (excluding holidays).
Weekly lesson topics include:
Introduction to Nonprofit Organizations, Incorporation & VT's Nonprofit Sector
Personal & Organizational Leadership
Fundraising & Development
Governance & Board Leadership
Operations & Human Resources
Strategic Planning
Nonprofit Financial Management
Outcomes & Evaluation
Trainers: Our list of trainers and speakers include some of Vermont's leading nonprofit consultants, funders, and policymakers who support Vermont's nonprofit sector.
Fee: The past rate for the Certificate Program has been $1,500. However, given the transition to a new shorter virtual format 2020 participants will pay only $750 for the 8 week program.
Meet Some of Our Trainers
About Common Good Vermont
Common Good Vermont is the only statewide organization in Vermont dedicated to uniting and strengthening all mission-driven organizations that serve the Green Mountain State. Common Good Vermont serves as the "go to" resource for our peers to share resources, gain skills, and build partnerships.
Common Good Vermont is a proud nonprofit ally member of the National Council of Nonprofits.